Experience the strenght and fragility of Czech glass and porcelain in its trial by fire at the world´s foremost design fair.
The Moravian Gallery in Brno presents a unique project showcasing the best of Czech glass, porcelain and ceramics production and their reflections on contemporary social and environmental transformations.
Triennale Milano, Viale Alemagna 6, Milano

17.–23. April 2023, 11–21 hod.,
vernissage 17. April 2023, 11–18 hod.

Web: madebyfire.eu
Instagram: @madebyfire_exhibiton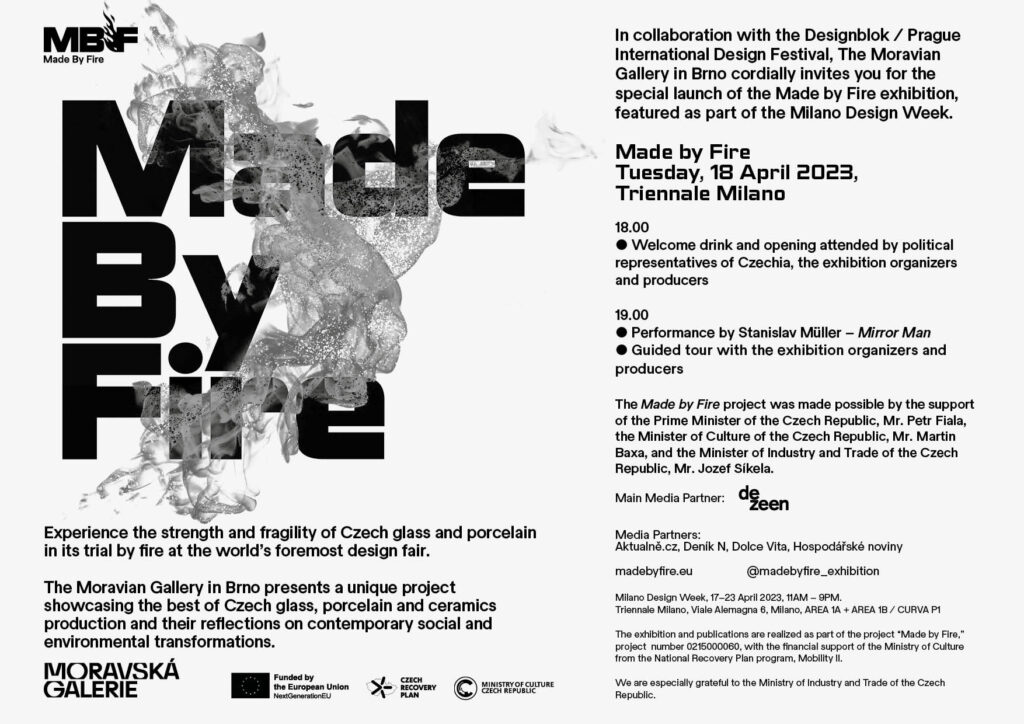 Zastoupení autoři / Represented authors: Luba Bakičová, Luisa Bělohlávková, Jakub Berdych Karpelis, DECHEM (Michaela Tomišková, Jakub Janďourek), Eva Eisler, Dominik Forman, Hidden Factory (Eva Pelechová, Gabriel Vach), Johana Hnízdilová, Klára Horáčková, Tereza Hrušková, Prokop Chludil, Martin Janecký, František Jungvirt, Joo Kawasumi, Lucie Koldová, Live Longer (Adéla Fejtková, Silvie Luběnová), Zdeněk Lhotský, LLEV (Eva Mochalová, Marcel Mochal), Monika Martykánová, Elis Monsport, Stanislav Müller, Jakub Nepraš, Lukáš Novák, Olgoj Chorchoj (Michal Froněk, Jan Němeček) a Jiří Černický, Milan Pekař, Jiří Pelcl, Eva Pelechová, Johan Pertl, Jakub Petr, Dominika Petrtýlová, Daniel Piršč, Rony Plesl, Jan Plecháč & Henry Wielgus, Tadeáš Podracký, Vendula Kvíz Radostová, Lada Semecká, Tereza Sluková, Markéta Špundová, Marieta Tedenacová, Antonín Tomášek, Quynh Trang Tran, Gabriel Vach, David Valner, Maxim Velčovský, Lenka Záhorková, Adam Železný